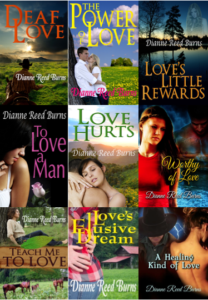 Welcome!  My name is Dianne Reed Burns and I'm the author of the Finding Love Series Contemporary Romance Novels.  My stories have taken place in Texas, Kansas, New Mexico, Arizona, and California.  I'm looking forward to including other states in future novels.  My Finding Love Series can be read as a set where characters will re-appear in different stories or they can each be read as a stand-alone.  Either way, you will find the heroes and heroines of the series overcoming obstacles in order to find the way to their one true love.  And although there will be some bumps along the way, you will always be guaranteed a happily ever after.
You can find the first seven stories of the Finding Love Series on Amazon, iBooks, nook, Kobo, inktera, Scribd, tolino and 24Symbols.
I want to say a big thank you to Dawn Charles at Book Graphics,  Sharon Grant at TheBookCoverDesigner, and RG Porter and Robert at SelfPubBookCovers for the great book covers for the series, and The Killion Group, LLC for the wonderful website header!
Please visit the rest of the site to find out more about me, what story will be coming soon, and future stories to be published.
Happy reading,
Dianne