They say writing is a craft.  It is building a story with words.  I love to write and I love words, but I also like to try my hand at other things too.  
4 Placemat Purse Project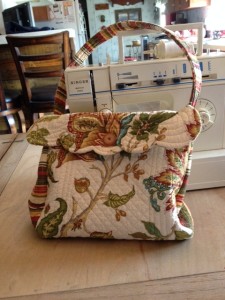 This is a bag I just completed on January 17, 2016,  It was made totally out of 4 placemats and an antique button out of my mother's old button jar.  I began the project with no idea as to where to start, so I just jumped into it.  This is the front view of the bag.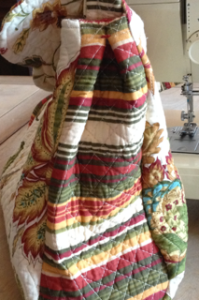 This is a side view of the bag.  When I had it completed, I decided the sides needed to be gathered in and made smaller at the top.  So I made a double pleat, then I tacked the top and top of the pleats together.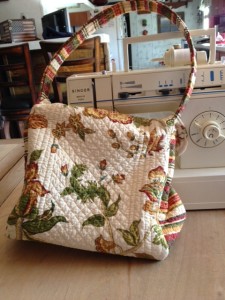 This is the back view of the bag.  Also, I had a piece of semi-firm plastic from an old cloth grocery bag.  I cut it down and sewed it in the bottom of the bag so the bottom would lay flat.  This project took me about 5 to 6 hours to complete, making the pattern up as I went.  It is not perfect by any means and is actually crude in places, but it's serviceable and I had fun making it.
Blue Crochet Prayer Shawl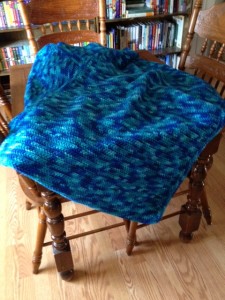 This is a crocheted prayer shawl I made a couple of years ago.  Many years ago a friend taught me to crochet.  I did not learn the stitch I was taught.  I was told afterwards, that the stitch I made did not exist.  It was totally my own and they had no idea how I did it.  I did finally learn how to do a double crochet for edging, but I keep it pretty simple, nothing fancy.
Pink Camo Baby Blanket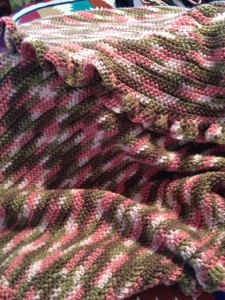 This is another simple baby blanket I made for my daughter's friends upon the arrival of their little girl.  They like camo, so we made it pink.  It's still my same simple stitch, with a little bit of a double crochet ruffle around it.
Hand Turned Wooden Ink Pens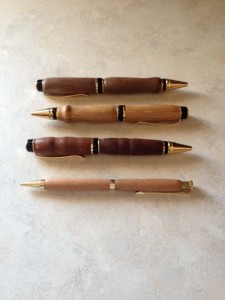 Here are 4 hand turned wooden ink pens made by my husband, Don.  He's a great woodworker and has made numerous boxes, bookshelves, wooden window valances, and a couple of home entertainment centers.  He has recently framed our bathroom mirrors and he is looking forward to more woodworking projects.